Mental Health Day - 10th October 2017
Posted: 10th Oct 2017
Seeing as its mental health day today, I thought I'd write a bit about mental health in the work environment. Not many people talk about mental health as it is such a taboo subject but it needs to be made more aware. One in four suffer from mental health problems throughout life and we find it very difficult to talk about, especially at work.
We are all happy to tell a colleague about a physical injury you've sustained or a cough that wont budge discussed at length but when it comes to mental health, where do you start? If you cant talk about it then equally it may be hard to listen too.
-- What Is Mental Health? --
Mental health is the mental and emotional sate in which we feel able to cope with in the normal stresses of everyday life. If you are feeling good, then you'll interact well with colleagues and make a valuable contribution to the team and workplace. One may feel good in mental health generally but also suffer from stress or anxiety from time to time. Mental health can range from feeling a 'bit down' to common disorders such as anxiety and depression or severe illnesses such as bipolar disorder or schizophrenia.
Promoting positive mental health can be done by spotting the signs which could be taking notes on what you see during work or in team meetings and then choosing the right moment to intervene. Engaging with the problem and possibly making adjustments to the working environment could also help out but only under certain circumstances. Mental health needs to be made aware in the workplace so employees feel like they can talk to one another about their issues. This is a huge step for an individual, just make sure you take the time. Even if it is for five minuets.
I can tell you what, take your lunch break and make the most of it! Have some lunch, go for a walk, listen to calming music or your favorite song on repeat. A motivational song that i listen to is Walk - Foo Fighters. It leaves me feeling on a high note. If you haven't heard the song before,
Dave Grohl sings about taking the next steps in life after believing he's "waited long enough" for everything to begin. I would 100% give this song a listen!!
"
I'm learning to walk again,
I believe I've waited long enough.
Make sure you leave work on time! I know this can be difficult when you have deadlines which can mean working overtimes; just try to make this an exception when needed. Long hours can mean you're working harder but not always better - your concentration, productiveness and health will lack and show. Please don't let work follow you home either. If you have to take work home with you, make sure you have a separate area to work and stick to it!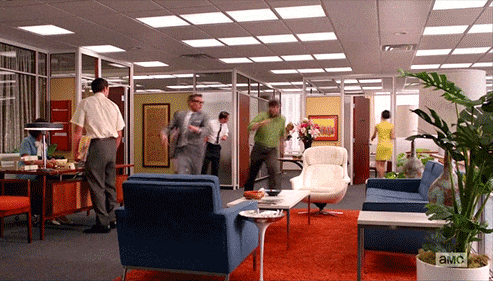 Stress will take over and you might feel like ripping your hair out but writing a 'to do' list can be your savoir. You can check it over at the end of the day, scribble your thoughts down and anything you forgot then write a list for tomorrow. You'll find it so much easier to work when you're not stressing over everything! Try talking to people instead of sending emails to one another, this will build your relationship and also communication.
I cant stress enough about how important being active is. It doesn't have to be intense for you to feel good - walking can have the benefit of social interactions and exercise. Finding something new about your colleagues can take your mind off stress and build the relationship. You never know what you might find out!
We spend a significant part of our lives at work, making people feel isolated and unable to express how they feel. Employees experiencing mental health issues should seek medical advice and report any symptoms to their employer as soon as possible.
You will feel better than this, maybe not yet, but you will. You just keep living until you are alive again.
Once you choose hope, anything is possible.